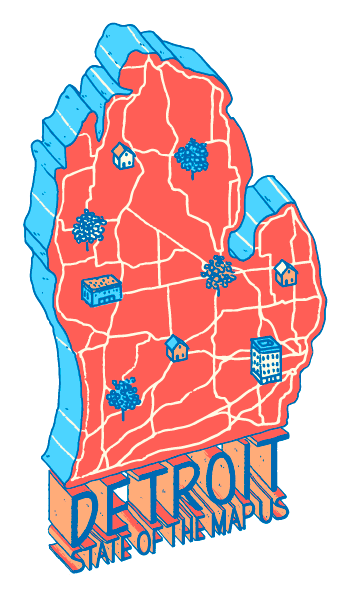 Make Detroit the Best Map in the World!
Detroit Mapping Challenge
We are so excited that State of the Map US 2018 will be held in Detroit on October 5-7. In advance, the City of Detroit and State of the Map US are issuing a challenge to the OpenStreetMap US community to make Metropolitan Detroit the best openly mapped region in the world.
Bring everything you have to make the map: satellite and drone imagery, LIDAR, street-level imagery, telemetry, the treasure trove of open data from the city, and especially local knowledge and experience. Utilize every methodology available: survey and drive, digitize, train machine learning algorithms, organize your team or strike out on your own.
There's no end to what can be mapped -- every sidewalk and its condition, trees parks and natural places, everything about road navigation from restrictions to traffic, data for biking and public transit. Let's map and share it all openly.
And we'll track our progress. Measure, analyse, evaluate and visualize how far we move between now and State of the Map US.