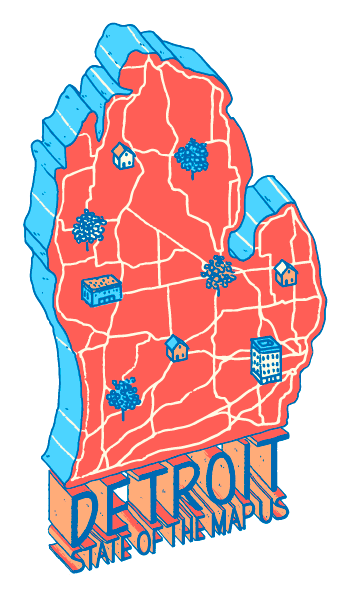 Detroit, Michigan
Airline and airport information
Detroit Metro Airport (DTW) services both domestic and international flights with several direct flights to Europe and Asia on a daily basis. The airport is a Delta hub, so you can typically find good prices on direct and connecting flights from around the US and the world.
It is a 30 minute car ride to Detroit. DTW offers rental cars, taxis, ride share (Uber and Lyft), shuttles, and buses into Detroit. A Lyft from the airport to downtown Detroit typically costs $30. More travel information is readily accessible on the airport website and at the airport.
The SMART FAST Michigan Avenue bus (route 261) runs from the airport to downtown Detroit with limited stops. This trip takes longer than a car ride — closer to 45 minutes or an hour — but lets you see more of Michigan Avenue on your way in. Check the SMART website or your transit app for schedules. The bus typically runs every 25-30 minutes during the day. The fare is $2.00 in cash; no change given.
Transit
There are an abundant array of transit options in Detroit. We highly recommend using Transit app or your favorite public transit app to navigate the city. Lyft and Uber are both available.
With an increasing number of bikelanes, a scenic riverfront, and road infrastructure built for twice the population, Detroit is a great city for biking. Detroit's MoGo Bikeshare has docks around downtown. You can buy a day pass ($8) at docks or through the Transit app.
A brand-new streetcar, the QLine, services Woodward Avenue. The People Mover, an elevated train, makes a loop around downtown Detroit. And DDOT, the Detroit Department of Transportation, operates the bus service. All take separate payments, so cash and an app are highly recommended.
Lodging
There are hundreds of amazing places to say in Detroit.
A wide range of AirBnBs are available, from urban farms to loft apartments. Hostel Detroit, a short hop from downtown, has private and shared rooms. Or, stay in a historic B&B. If you have questions about a neighborhood, you can drop the organizers an email at sotmus@openstreetmap.us.
A half-dozen or more hotels are within walking distance of Cobo Hall, the conference venue. These hotels are especially close and cover a range of budgets:
A 10 to 15-minute walk from Cobo, the David Whitney is a beautiful historic building. You can also take the People Mover elevated train to the venue for a scenic trip. A typical stay is around $200-250/night.
A short four blocks from Cobo Hall, this hotel offers low frills but a super convenient location and good prices. Reservations typically are $120-175/night.
Directly across from Cobo Hall, Detroit's old Fire Headquarters have been remodled into the Foundation Hotel. Bookings typically range from $275-350/night.
A a quick Mogo bikeshare or rideshare trip away, Trumbull and Porter is a solid choice. Reservations typically run $150/night.
Looking at Canada?
It is possible to stay in Canada and commute every day — but we don't recommend it. There is a bus to Windsor, but it adds to your commute and you need to go to border control. Instead, we recommend picking an affordable AirBnB in Detroit.
Visiting the U.S. in 2018
Visa Information
A foreign visitor entering the U.S. is generally required to present a passport and valid visa issued by a U.S. Consular Official, unless they are a citizen of a country eligible for the Visa Waiver Program, or are a lawful permanent resident of the U.S. or a citizen of Canada.
Here is a list of countries eligible for the Visa Waiver Program. In other words, if you are a citizen of the U.S., Canada, or one of the following countries, you do not require a Visa:
Andorra
Australia
Austria
Belgium
Brunei
Chile
Czech Republic
Denmark
Estonia
Finland
France
Germany
Greece
Hungary
Iceland
Italy
Japan
Latvia
Liechtenstein
Lithuania
Luxembourg
Malta
Monaco
Netherlands
New Zealand
Norway
Portugal
Singapore
Slovakia
Slovenia
South Korea
Spain
Sweden
Switzerland
Taiwan
United Kingdom**
**To be eligible to travel under the VWP, British citizens must have the unrestricted right of permanent abode in England, Scotland, Wales, Northern Ireland, the Channel Islands, and the Isle of Man.
Based on information from the U.S. State Department, if you require a Visa to visit the U.S., please make sure you've submitted the application by August 5th, 2018. This is 60 days before the start of the conference.
The U.S. State Department's goal is visa delivery no more than 30 days from the time of application in most cases, although cases that require administrative processing could take longer. Most administrative processing is resolved within 60 days of application. Here is a link to our visa Law and Policy.
Here is the URL for electronic Visa application.
Your Rights
If you plan on attending State of the Map US and are not a resident of the U.S., please make sure you know your rights. As far as we understand, anyone is subject to potential screening and questioning upon entry into the U.S., no matter what country you are traveling from or where your citizenship is from.
This page tells you about your basic rights. It is not a substitute for legal advice. You should contact an attorney if you have been arrested or believe that your rights have been violated.
REMEMBER: It is illegal for law enforcement officers to perform any stops, searches, detentions, or removals based solely on your religion, race, national origin, gender, ethnicity, or political beliefs. However, law enforcement officers at the airport and at the border generally have the authority to search all bags and to ask you questions about your citizenship and travel itinerary.